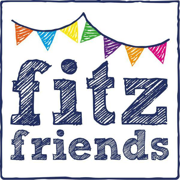 Welcome to the page for the Parent Teacher Association (PTA) at Fitzmaurice Primary School, officially known as Fitzmaurice School Association, or Fitz Friends for short!
On our section of the website you can find information about Fitz Friends, how we work within the school,
the events that we run and how you can get involved.
Fitzfriends newsletters can be found at the bottom of the page.
---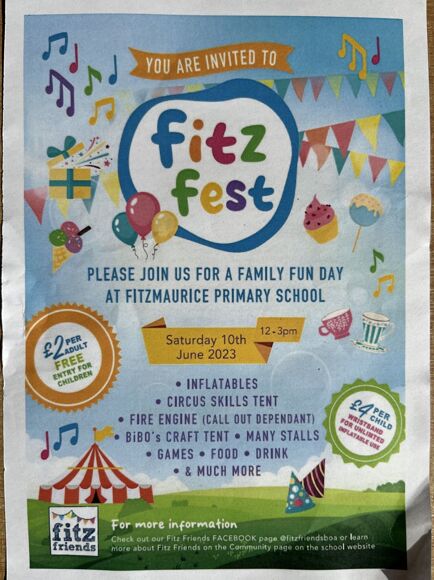 Plan

Social
Fitz Friends uses 'Plan Social' to communicate with parents and carers who have signed up to say they'd like to hear from Fitz Friends. It's a fantastic way to keep up to speed with PTA activities, as well as placing orders for fun things. Stay up-to-date by making sure you are registered asap. This is really important, as information will be coming out very soon about how to order an exciting 'Brighter Days' activity pack, full of wonderful things for the children to make and do this spring. Register this week so you don't miss it when it comes out!
It's easy to sign up to Plan Social using this special Fitz link:
Fitz

Friends

FUNdraising!
As parents and carers of Fitz Children, we are ALL valued members of Fitz Friends. There is so much to celebrate! Feel proud of how much we've achieved and be a part of what's next... Thank you!
Get in Touch
What We Do
We are fortunate at our school to have a PTA that is an integral part of the school community. In its time Fitz Friends has raised thousands of pounds, which has been spent on equipment and resources to enhance our children's education experience and the school's facilities. Just some of the things that Fitz Friends have purchased solely or contributed to in recent years include the refurbishment of the school library, ICT equipment, subsidising class trips and workshops and buying new playground and sports equipment
Fitz Friends is however about much more than simply fundraising. Our PTA exists to provide closer links between home and school and it is an excellent way to bring staff, parents, carers and friends together socially in support of the school, working towards a common goal. It is fun too - just ask any of the Committee members or PTA helpers! Obviously, as in any organisation, we have experienced some challenges but with the continued support of parents, carers and staff, our PTA has always succeeded in its efforts.
All parents and members of the school community are encouraged to get involved, even if they only have a small amount of time available.
All families are automatically members of Fitz Friends PTA when their child joins our school.
How We Raise Money
Like most PTAs, the majority of our funds are raised through a wide variety of fun and social events such as Discos, Fairs, Film Clubs, Jumble Sales and Quizzes, as well as Second Hand Uniform and Ice Cream Sales. Fitz Friends is extremely conscious of the ethos and diversity of our school, and we try very hard when organising and planning events to respect this.
Donations from parents, carers and local residents and businesses are extremely important. We have, over time, developed strong links with the local community and are always well supported by both residents and businesses, for which we are very grateful. Many of our businesses and local shops are very generous providing donations for raffle prizes, auction items etc and some have taken part in our Christmas and summer fairs.
We are also extremely grateful to the local businesses who have participated in charity matched giving schemes and donations. This has made a huge difference to our fundraising efforts.
How The Money We Raise Is Spent
Following a fundraising event, the money is banked straight away. It is at our PTA Committee meetings, that the decisions on how to spend the money are agreed. We always endeavour to spend our funds in ways that will benefit all our children across all areas of the school and curriculum. The money we raise is usually spent fairly quickly. That way, you can be sure that in supporting our school, your child/ren will feel the benefit, along with everybody else.
Usually, our Head teacher will have a consultation with the children and staff to discuss items that the school would like the PTA to consider funding. It could be anything from funding towards a large project in the future, buying resources to improve a particular area of the curriculum or school environment or funding school trips. The PTA funds are spent on the 'extras' that are not provided by the school's budget, thus making our children's learning experiences so much more fulfilling and exciting.
Some of the things that Fitz Friends have purchased solely or contributed to in recent years include:
Refurbishment of the school library including books, fixtures and fittings
'Poddely' (giant kind of construction kit)
16 tablet computers with cases and a charging trolley
Christmas trips
Play equipment
Sports kit
Outdoor classroom
Polytunnel
Whole school theatre trips
Hall sound system
Broadcast radio equipment
Laptops
Class parties/purchases
Subsidising class trips
Year 6 Leavers' trips/souvenir memory books
Gardening club and eco events
Help us Raise Funds
Along with attending and volunteering to help at events there are some other ways that you can help Fitz Friends raise more money for the school:
Easy Fundraising.org.uk
Whenever you buy anything online, from your weekly shop to your annual holiday, you could be collecting free donations for Fitz Friends? All you need to do is to join easyfundraising.org. Then every time you shop online, go to easyfundraising.org first to find the site you want (there are over 3,000 shops and sites on board ready to make a donation, including Amazon, eBay, Boden, Boots, Hotels.com and Sainsbury's – it doesn't cost you a penny extra!). You do your shopping as normal and after you've checked out, that retailer will make a donation to Fitz Friends for no extra cost whatsoever! There are no catches or hidden charges.
Please join for free at: https://www.easyfundraising.org.uk/causes/fitzfriends/
Amazon Smile
Did you know that when you do your online shopping with Amazon you can raise money for free by simply going through the smile link? Simply click the link: https://amzn.to/3dWgnYi
Match Funding/Match Giving
Companies throughout the UK such as Argos, Lloyds TSB, Tesco, offer employees the chance to boost their schools fundraising efforts by 'matching' the money they raise. Generally, the employee must have been involved in the fundraising event as a volunteer. Companies then pledge a sum of money relating to the amount their employee has raised at a fair or donated to the charity. For example, a parent volunteers to work on organizing or on a stall at the summer fair. The profit made by the stall is £100. The parent's employer will then match this amount with a further £100. Some organisations will match fund on a £ for £ basis, others will stipulate what they are prepared to give.
Please do speak to your company's community relations manager or HR Department to ask if the operate or are interested in running a matched giving scheme. You could help Fitz Friends could double the amount of cash it raises at events.
Rag Bag Scheme
Friends raises extra funds for the school by managing a Rag Bag Collection Bank located on the school site outside the Nest. Through Rag Bag you can help recycle textiles and clothing that may have ended up going to landfill. The scheme is completely FREE, and the school is paid for every kg of clothes and textiles that are donated. If you have unwanted clothes and textiles at home, please do drop them off at the school rag bag collection bank.
Getting Involved
We rely on carers and parents to help out with the organisation and smooth running of events. Inevitably each year we lose some parents as their children move onto the next school, so it's key that we get new parents coming through right from Reception to take on the small task of getting involved.
There are lots of ways you can help and support your child through the PTA.
Offering to help before events or at other times during the year is so valuable. It doesn't matter if you can't help on a regular basis, or even if you cannot come into school. There are always jobs that can be done from home if you have half an hour to spare e.g. wrapping gifts, preparing raffle tickets etc. We really couldn't achieve what we do without the behind the scenes help that we receive.
If you would like to be more involved you can volunteer to be a Class Representative or Committee Member. Or you can simply support the AGM and give us your ideas for fundraising events. This is also the time to ask questions or voice your opinion.
You can help by letting us know if you have any contacts or skills we could use, everything is potentially valuable to us.
And finally, we are always extremely grateful to receive donations.
The Committee
Our PTA committee consists of three Officers: Chair, Treasurer and Secretary. This is a minimum requirement for a charity however there are further committee members and observers which make up the Full Committee.
Our current Committee for 2021/22 is as follows:
Chair:
Vice-Chair:
Treasurer: Alice Sinclair
Secretary: Laura Wilson
The Committee meet on a regular basis, usually once per term, with smaller working groups meeting as necessary when we are planning larger events. Everyone is welcome to attend these meetings.
Second Hand Uniform
Ordering
Second Hand Uniform can be purchased via our Fitz Friends Facebook page https://www.facebook.com/fitzmauriceuniform or by completing the order form below and dropping it back into the school office.
All orders are placed in a 'Click and Collect' box in the school reception foyer for you to collect at your convenience. You can try on the items and return any unwanted items.
Payment
You can pay for any items via cash or cheque made payable to FITZMAURICE SCHOOL ASSOCIATION and given to the school office.
Price List
| | |
| --- | --- |
| Logo zipped fleece jacket | £4 |
| Logo cardigans and sweatshirts | £2 |
| Polo Shirts (white and burgundy) | 50p |
| Trousers | £2 |
| Dresses | £2 |
| Skirts | £1 |
| Shorts | £1 |
| P.E tops | 50p |
| Shoes, plimsolls/daps | £1 |
Donations
We would be very grateful for donations of uniform in good, clean condition. Please leave your donations with the school office.
Donate
Text To Donate
Fitz Friends PTA are always very grateful for any donations to support our fundraising efforts and can now accept Text/SMS donations:
To donate £1, text FITZ to 70201
To donate £3, text FITZ to 70331
To donate £5, text FITZ to 70970
To donate £10, text FITZ to 70191
* Fundraising, payments and donations will be processed and administered by the National Funding Scheme, operating as DONATE, a charity registered in England and Wales (1149800) and Scotland (SC045106). In addition to any text donation, you will incur your standard network message charge (based on your service provider rates). For Terms & Conditions, see www.easydonate.org
Further information about 'Text To Donate' can also be obtained by scanning the QR code below: