Red Kite - Y5/6
Welcome to Red Kite!
We are a year 5/6 class and you will find us in the second classroom from the main entrance, in the KS2 corridor.
Classroom LocationsOur teachers are Mr Tozer (Mon-Thurs) and Mrs Natasha Hindmarsh (Fri); our teaching assistants are Miss Honour Luckins, Ms Sara Clifford, and Mrs Keating.
If you have any questions, you can email the teachers at redkite@fitzmaurice.wilts.sch.uk
Jubilee Celebration
As part of our Jubilee celebrations each class has been looking at different decades of the Queen's reign. They have also produced some art work based on a picture of the Queen from that decade.
Red Kites have been looking at the 1960's - here are their portraits...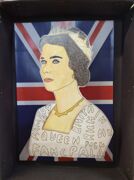 (Click on picture)
Transition presentation for parents: