Owl - Y4/5
Welcome to Owl Class!
We are a year 4/5 class and you will find us in the third classroom from the main entrance along the KS2 corridor.
Our teacher is Miss Blake & our teaching assistants are Mrs Fisher, Mrs Earland, Ms Sara Clifford and Dave. Sometimes Red come into school to visit.
If you have any questions you can email Miss Blake at owl@fitzmaurice.wilts.sch.uk
This term's knowledge organisers, homework and spellings can be found in the document list at the bottom of this page.
Queen's Platinum Jubilee
Owls were commissioned to create a crown for the Barbara McLellan Trip boat, which we delivered on Friday 27th May. We we rewarded with a boat trip !
We have been working on portraits of the Queen in the style of commemorative stamps and have been studying the 1970s.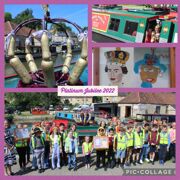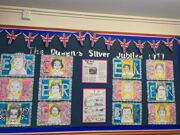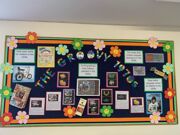 Statutory Multiplication Tables Check (MTC) for Y4
Powerpoint explaining the MTC.
Transition presentation for parents:
Useful Links to Support Your Learning
Here are some useful websites to add variety to your learning at home.
Swimming
Year 4 Owls will be swimming on a Wednesday afternoon in terms 5 & 6 in 2021/22.
Please see the swimming page for more information: