Kingfisher - Y 1/2
Welcome

to

Kingfisher!
We are a mixed class from years 1 & 2 and you will find us in the furthest of the 3 Key Stage 1 classrooms.
Our teacher is Mr Horniman & our teaching assistant is Mrs Hughes.
If you have any questions, you can email the teacher at FPSkingfisher@PalladianAcademyTrust.com
Homework, spellings and knowledge organisers can be found in the document list at the bottom of this page.
A sunny welcome back to Kingfisher class. We will be starting the first two weeks of term with a focus on presentation, routines and organisation. We have started off this year with some excellent examples of what our books should look like in English and Maths. The children have been working exceptionally hard in English to improve their handwriting to write in our new English books (please see an example of our handwriting in the photo below).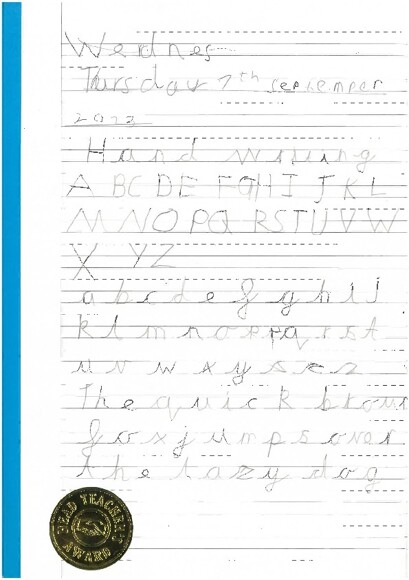 Our focus this term will be animals including humans. The children will be learning how to categorise animals into mammals, reptiles, fish, birds and amphibians. This will link nicely to our history focus of a famous person from the UK, Charles Darwin.
We are really looking forward to developing our understanding of the number system. In English we are going to let our hair down to rewrite the traditional tale of Rapunzel, more on that story later.
Meet the Teacher
Early in week one parents were invited in to meet their child's class teacher. Please find the PowerPoint that we used to develop their understanding of a day in the life of a Key Stage 1 child in the document list below - Transition into Blackbird, Falcon and Kingfisher Classes 23 24.