Falcon Y 1/2
Welcome

to

Falcon!
We are a mixed class from years 1&2 and you will find us in the middle of the 3 key stage one classrooms.
Our teacher is Mr Ladner and our teaching assistants are Mrs Fielding and Mrs Dennett.
If you have any queries, you can email Mr Ladner at FPSfalcon@PalladianAcademyTrust.com
We started the term as botanists exploring the Forest School Area. We made dens, searched for wildlife, burrowed into the ground to explore how roots spread, we created natural art and sketched trees using pastels. This was a fabulous start to our English lessons where we are learning about the text 'The magic and Mystery of Trees' so we can write information texts. Our learning in Science will also support our writing because we are studying what plants and trees need to survive. We are really looking forward to our visit to Westonbirt so we can extend our knowledge. In Art we are taking one picture by Van Gogh to create our own interpretation of the Olive Trees.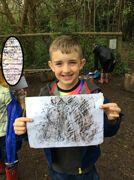 Homework, spellings and knowledge organisers can be found in the document list at the bottom of this page.