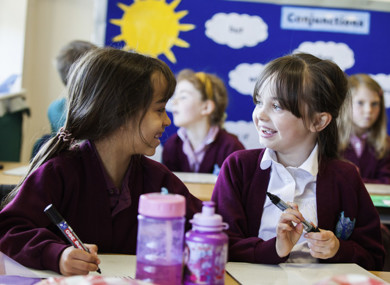 Prospectus
Thank you for showing an interest in our school.
Starting school, or indeed changing schools, is often a very anxious time, not only for children, but for parents and carers too. Every child is different and every school is different. When you choose a school, you want to find the right fit for your child. In our prospectus, which you will find in the list at the end of this page, we've tried to give you the best picture of what makes Fitzmaurice special so you can decide whether we're right for you and your family.
As well as our prospectus, lots of information can also be found on this website. If you cannot find the answer to any of your queries, please do contact the school office who are always willing to help.
We'd also like for you to come and see our wonderful school for yourselves.
If you would like your child to attend our school, please see full details of our admission arrangements below.
Fitzmaurice has a pupil admission number of 45. This means that it can have up to 45 children in each year group. We have mixed age classes.
If you would like any more information about mixed age classes then please read our guidance booklet below.
Visiting the School
Each year we hold an Open Day for prospective parents in the Autumn and Summer to provide parents with the opportunity to have a look around; we encourage parents to attend if they are considering Fitzmaurice for their child. We are very happy to have the children attend with their parents and have activities just for them.
Children also often start Fitzmaurice at varying points through the school year because they have moved into the area and we welcome contact by parents to arrange visits before application. Please contact the school office on 01225 862162 if you would like to book a visit.
Admissions Policy and Procedures
Fitzmaurice Primary School is now part of the Palladian Academy Trust and as such is now its own admission authority. We will follow the school admissions policy below, which applies solely to applications for places within Fitzmaurice Primary School.